A simple, innovative, earlier treatment option for the world's #1 source of disability - Back Pain!
Triojection™ From SpinaFX Medical
Minimally-Invasive Image-Guided Ozone Therapy1 .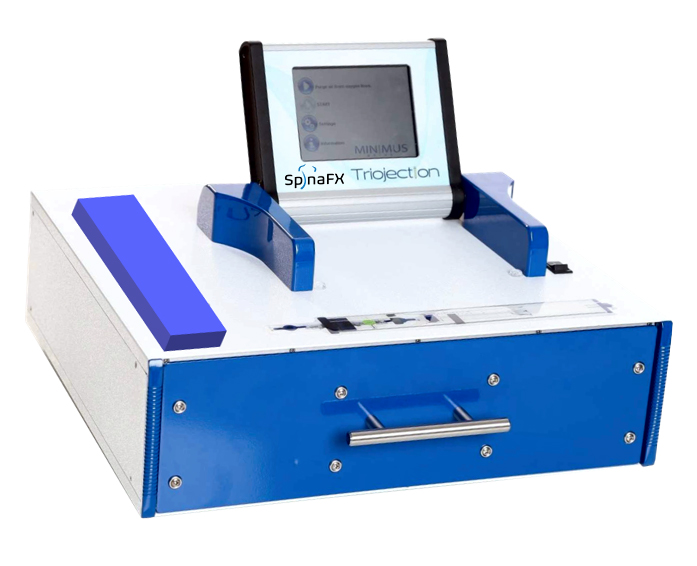 Ozone generator and measurement console

Syringe with exterior case, filter and dual stopcocks.
Indicated for patients with "Contained Herniated Discs" causing back pain which has not responded to conservative therapy1,2.
Triojection combines a self-contained, medical-grade ozone (O3) generator, spectroscopic measurement console, and disposable single-use delivery syringe and sterile case.
Triojection ensures consistent treatment with accurate, repeatable O3 concentration.
Our patented, disposable exterior case and syringe adheres to key aseptic principles guaranteeing sterile O3 delivery.
Built with Ozone- and UV-compatible disposable syringe polymers including filters & stopcocks.
1.Triojection™ is not currently available for promotion or sale in the USA or EU. Triojection was previously awarded CE Mark under MDD and is undertaking re-registration under MDR. Contact SpinaFX for further information regarding anticipated commercial availability in your region. 2. Eligible patients include 71% of those with contained herniated discs and other borderline non-surgical patients for whom there are no effective treatment options.
A Simple, Innovative, Earlier Solution for
Herniated Disc-Related Back Pain.
Back Pain – The #1 cause of disability in the world1 and most expensive health condition treated2.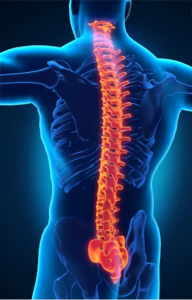 An earlier treatment option that reduces the risk and pain that can be associated with surgery.
Avoids further disc and/or vertebral damage but still allows surgery if needed as the patient ages3.
62% faster for physicians and 10 times less costly, averaging 4.3 hours of hospital stay vs 44 hours for surgery3.
Can eliminate pain with long-lasting effect, reducing the need for opioids and/or steroids.
Ozone (O3) – a dehydrating, oxidizing, naturally occurring species of oxygen (O2) gas that can be injected into the gelatinous disc nucleus.
Nucleus Pulposus Breakdown
Ozone injected into the disc nucleus dehydrates and breaks down proteins* in the nucleus leading to reduction of the bulging disc herniation.
* Glycosaminoglycans (GAGs)-substituted proteoglycans
Murphy 2016, pubmed.ncbi.nlm.nih.gov/27363296/
Lehnert T 2012, pubmed.ncbi.nlm.nih.gov/22999458/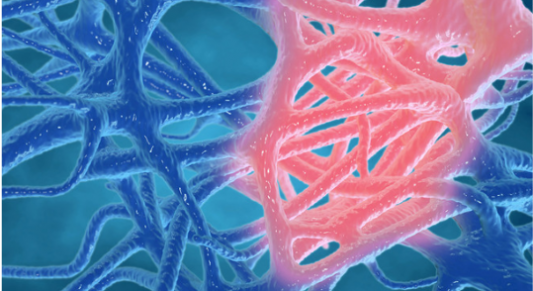 Ozone reduces the release of inflammatory proteins (cytokines) that lead to inflammation.
Niu 2018, pubmed.ncbi.nlm.nih.gov/29611536/ Murphy 2016, pubmed.ncbi.nlm.nih.gov/27363296/ Fuccio 2008, pubmed.ncbi.nlm.nih.gov/19100257/ Chang 2005 link.springer.com/article/10.1007/s00296-004-0526-1 Lu 2017, pubmed.ncbi.nlm.nih.gov/27744376/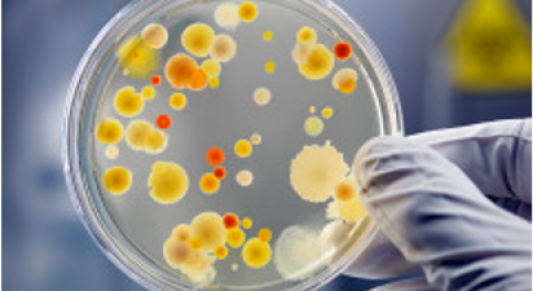 Ozone has proven antimicrobial properties. Reduced spine infection reduces potential degenerative (modic) changes in the disc, vertebral bones and reduces pain.
Albert 2013 pubmed.ncbi.nlm.nih.gov/23397187/
Holmes J. Clinical reversal of root caries using ozone, double-blind, randomised, controlled 18-month trial. Gerodontology. 2003 Dec;20(2):106-14. doi: 10.1111/j.1741-2358.2003.00106.x. PMID: 14697022.
Triojection vs discectomy
17/24 (71%) of Ozone patients avoided open surgery entirely.
(Surgery can be done after triojection if needed in future)
2/17 (12%) of surgical patients required repeat surgery for persistent symptoms.
* Murphy K P et al. Intradiscal Oxygen-Ozone Chemo-nucleolysis versus Microdiscectomy for Lumbar Disc Herniation Radiculopathy: A Non-inferiority Randomized Control Trial. Accepted for Publication in 'Spine'.