Transforming the future of back pain treatment
A simple, innovative, earlier treatment option for the world's #1 source of disability - Back Pain!
Triojection™ From SpinaFX Medical
Minimally-Invasive Image-Guided Ozone Therapy1 .
The Triojection® System consists of a computer-controlled console and an ozone generation chamber inside a disposable single-use syringe and sterility case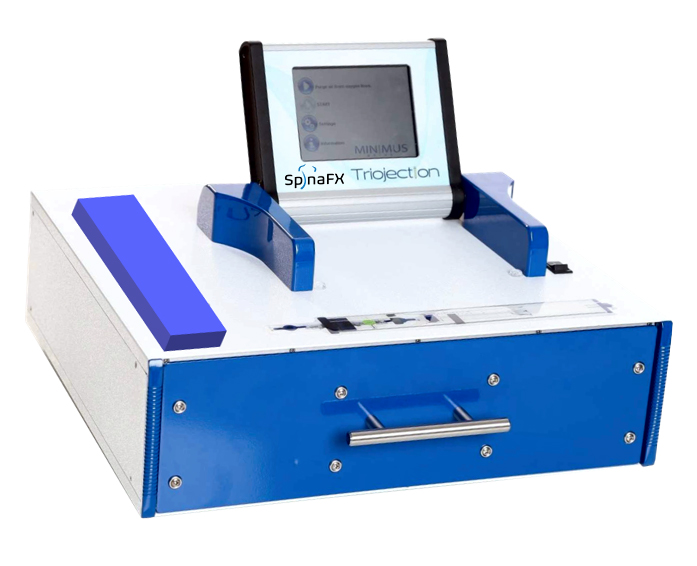 Ozone generator and measurement console
Syringe with exterior case, filter and dual stopcocks.

Indicated for patients with "Contained Herniated Discs" causing back pain which has not responded to conservative therapy1,2.
Combines a self-contained, Ozone (O2+2.4% O3) generator and spectroscopic measurement.
Patented, disposable exterior case and syringe adheres to key aseptic principles guaranteeing sterile ozone delivery.
Built with high quality O3 and UV-compatible disposable syringe polymers including filters & stopcocks.
Ensures consistent treatment with a sterile, metered, measured, accurate, precise and repeatable O2/O3 concentration at the point of care.
1.Triojection™ is not currently available for promotion or sale in North America, the EU of UK. Triojection was previously awarded CE Mark under MDD and is undertaking re-registration under MDR. Contact SpinaFX for further information regarding anticipated commercial availability in your region. 2. Eligible patients include 71% of those with contained herniated discs and other borderline non-surgical patients for whom there are no effective treatment options.
A Simple, Innovative, Earlier Solution filling a therapeutic gap for contained herniated Disc-Related Back and leg pain.
Back Pain – The #1 cause of disability in the world1 and most expensive health condition treated2.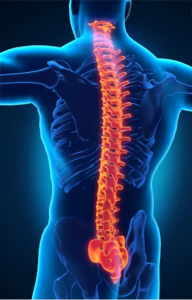 Treats the underlying condition, not just the symptom.
Rapid time to recovery, shorter procedure, fewer opioids, 90% lower cost.
Equivalent pain reduction without long-term disc or vertebral damage.
Reduced long-term consequences of degenerative changes.
High clinical success rate.
No barriers to later surgery if needed.
Swift and sustained relief.
Naturally-occurring gas that  is precisely formulated.
Nucleus Pulposus Volume Reduction
Treatment effect is disc volume reduction.
Reduces the compression of nerve roots and vasculature.
Safe and effective with successful clinical outcomes.
A study of 283 patients showed intradiscal ozone injections are associated with statistically significant volume reduction of the herniated lumbar disc. Average disc volume reduction (mean 7.70+/- 5.45%; range, 0.29%–22.31%) was seen in 96.1% of treated disks at 6 months after treatment. (P < 0.0001).
Lehnert T et al 2012, Lumbar Disk Volume before and after Ozone–Oxygen Injection, pubmed.ncbi.nlm.nih.gov/22999458/
Animal studies and mathematical modelling showed a 6% nucleus pulposus volume reduction can lead to a 9.84% reduction in pressure, relieving nerve root compression and herniated disc-related pain.
Murphy et al,  2016, Percutaneous Treatment of Herniated Lumbar. Discs with Ozone: Investigation of the Mechanisms of Action.pubmed.ncbi.nlm.nih.gov/27363296/
Ozone (O3) – a dehydrating, oxidizing, naturally occurring species of oxygen (O2) gas that can be injected into the gelatinous disc nucleus.
Nucleus Pulposus Breakdown
Ozone injected into the disc nucleus dehydrates and breaks down proteins* in the nucleus leading to reduction of the bulging disc herniation.
* Glycosaminoglycans (GAGs)-substituted proteoglycans
Murphy 2016, pubmed.ncbi.nlm.nih.gov/27363296/
Lehnert T 2012, pubmed.ncbi.nlm.nih.gov/22999458/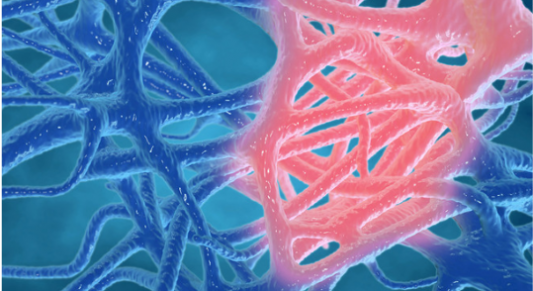 Ozone reduces the release of inflammatory proteins (cytokines) that lead to inflammation.
Niu 2018, pubmed.ncbi.nlm.nih.gov/29611536/ Murphy 2016, pubmed.ncbi.nlm.nih.gov/27363296/ Fuccio 2008, pubmed.ncbi.nlm.nih.gov/19100257/ Chang 2005 link.springer.com/article/10.1007/s00296-004-0526-1 Lu 2017, pubmed.ncbi.nlm.nih.gov/27744376/
Ozone has proven antimicrobial properties. Reduced spine infection reduces potential degenerative (modic) changes in the disc, vertebral bones and reduces pain.
Albert 2013 pubmed.ncbi.nlm.nih.gov/23397187/
Holmes J. Clinical reversal of root caries using ozone, double-blind, randomised, controlled 18-month trial. Gerodontology. 2003 Dec;20(2):106-14. doi: 10.1111/j.1741-2358.2003.00106.x. PMID: 14697022.
Triojection vs discectomy
17/24 (71%) of Ozone patients avoided open surgery entirely3.
(Surgery can be done after triojection if needed in future)
2/17 (12%) of surgical patients required repeat surgery for persistent symptoms.
1. Steppan, J,, Meaders, T, Muto, M, and Murphy, K: Metaanalysis of the Effectiveness and Safety of Ozone Treatments for Herniated Lumbar Discs. J Vasc Interv Radiol 2010; 21:534–548
2. Murphy K, Muto M, Steppan J, Meaders T, Boxley C. Treatment of Contained Herniated Lumbar Discs With Ozone and Corticosteroid: A Pilot Clinical Study. Can Assoc Radiol J. 2015 Nov;66(4):377-84. doi: 10.1016/j.carj.2015.01.003. Epub 2015 Jun 17. PMID: 26092159.
3. Murphy K P et al. Intradiscal Oxygen-Ozone Chemo-nucleolysis versus Microdiscectomy for Lumbar Disc Herniation Radiculopathy: A Non-inferiority Randomized Control Trial.